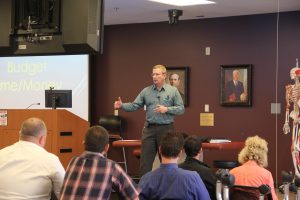 Today I had a nice talk with the students at Western University of Health Sciences COMP Northwest. They heard my lecture on "Living the Good Life." It was a fun time talking with the Osteopathic students. During the lecture, everyone who signed up for any of my social media sites, Facebook (Dr. Cory S. Fawcett), Twitter (@drcorysfawcett), LinkedIn (Dr. Cory S. Fawcett), Youtube (Dr. Cory S. Fawcett) or my blog (www.DrCorySFawcett.com) was entered into a drawing for a copy of my upcoming book on eliminating debt. The book will be out this fall. The winners of the drawing are:
Marc Anderson
Janyne Mallender
Joe Freeman
This fall you will each get a copy of one of the advance promotional books, before it is available on Amazon. Hope you give me a good review when you get it. Those of you who bought a book today (The Doctors Guide to Starting Your Practice Right) or got a free copy as a prize, if you can find the time, please put a review on Amazon after you read it.
For the rest of you, I ended the lecture with this quote:
"Don't get so busy making a living that you forget to make a life." – Dolly Parton.