Real Estate Investing for Busy Professionals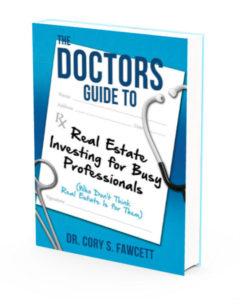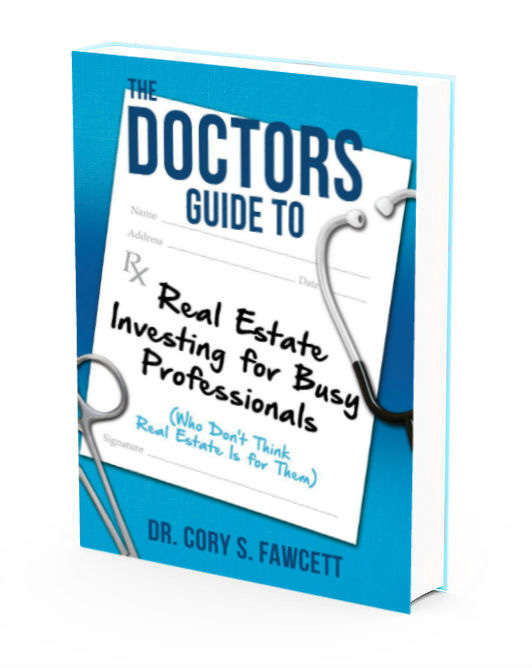 What You Don't Know About Real Estate Investing . . .
. . . Could cause you to miss the greatest opportunity you'll ever have for growing passive income.
As a busy professional, you can still have time to buy and manage a real estate investment—if you know how.
It's no different from managing any other business: choose what you can do and hire someone to do the rest. With this book, you'll learn how to oversee a property management company and how to manage dozens of units yourself in less than 15 hours a month.
In the fourth book of The Doctors Guide series, Dr. Cory S. Fawcett shows you how he managed
five apartment complexes as a full-time surgeon—and what he learned along the way:
How to evaluate the profit potential of a real estate investment
How to create passive income without the restrictive IRS spending rules of a 401(k)
How the depreciation boosts your rental income
What other had to say:
3/4/20, Dollars and Debts
"I recommend anyone who has considered real estate investment to pick this book up. For me the biggest benefit was realizing I do not have to time the market for real estate investing (just like stocks). If the cash flow is positive, then it is a good time to invest."
Read the full review at the link below:
1/10/20, B.C. Krygowski
"Cory appears to me to be trustworthy and honest. I believe he already has what he wants in terms of finances. So his motivations seem to me to be to help other doctors and be known for giving good advice."
12/25/19, Crispy Doc
"His discussion of how to screen for a good property, determine a maximum purchase price and use information from an appraisal in the proper context were illuminating, and the pieces of the puzzle fell together nicely…the author is looking to empower you rather than sell you a program, and the writing is plainspoken without being patronizing. The book eliminates your excuses."
Read the full review at the link below: 
12/16/19, The Frugal Physician
"This book is a good primer to the world of multifamily investing if you're looking to get an overview of the process, as well as a taste of the nitty-gritty. Dr. Fawcett does an excellent job of summarizing a lot of important concepts in an easy read manner. When I am ready to buy a multifamily building, I plan to go through this book chapter by chapter, again, to refresh all the details."
Read the full review at the link below: 
12/11/19, WealthyDoc
"Other authors share but are too vague to be helpful. I'm often frustrated by the lack of details of actual deals by authors. This book is refreshing.
Dr. Fawcett shares how he found properties and bought them at a good price. Learn how he financed them. Along with how much cash flow they generate and their current value. The specifics are what make the advice real and authentic."
Read the full review at the link below: 
11/26/19, Jim Dahle, MD, The White Coat Investor
"…written by everyone's favorite general surgeon turned author…I agree with Dr. Fawcett that this is the way to buy your properties…if you (plan to directly invest in real estate), you should definitely read this book."
Read the full review at the link below: 
I finished reading your book "The Doctors Guide to Real Estate Investing for Busy Professionals." Loved it! Thank you for writing this. Learning about your story and how real estate investing worked so well for you while practicing as a full time surgeon convinces me that I can make it happen for myself too. I know it's in the cards for me, but reading your book makes the picture more vivid. You come across as a man of faith and someone who feels compelled to add value to others/society. Thank you for sharing your wisdom with the world via your writings, lectures and online presence. 
-Puneet S. Braich, MD, MPH
Dr. Cory Fawcett is so dang persuasive in these books! My husband read the book above and now we're exploring real estate….
-BC Krygowski, MD
"This is the book I wish I had before I started investing in rental Properties. Everything a new investor needs to know is in this book."
-Dan Lane, Rental Income Podcast
"A book written with surgical precision on how to succeed in residential real estate investing. The Sage of Southern Oregon has done it again."
-J. Brant Darby, DDS
"Dr. Fawcett's book dispels the notion that purchasing apartments and managing them is too time consuming for the busy person."
-B. Bonner
"I wish someone had educated me in this subject forty years ago! I would have grabbed the bull by the horns and today would likely have considerable passive income using multiple unit residential real estate as the vehicle."
-Jim Lefeber
"I just finished his latest book on Real Estate Investing for the busy professional and am blown away by it! It takes the Kyosaki Mindset concepts in Rich Dad Poor Dad and gives them tangible legs!" 
– Bill Yount, Financial Literacy Project