Smart Career Alternatives and Retirement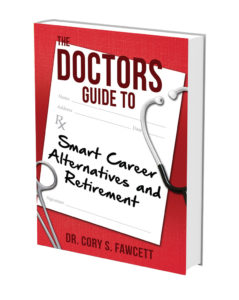 Escape Call. Live Well. Enjoy Your Work.
Many physicians are ready to give up their job and healthcare career altogether. It doesn't have to end that way. In his third book in The Doctors Guide series, Dr. Cory Fawcett shares options you didn't know existed. There are ways to repurpose your career in healthcare to find that balance of work and enjoyment that's been missing.
If you are ready to leave medicine, read this book before you make our move. Determine your next steps to a more fulfilling life as a healthcare professional.
Uncover your motivation for wanting a change
Find a new career that uses your existing skills and experience
Learn from the experiences of other doctors in clinical and nonclinical careers
Know the ins and outs of semi-retiring or fully retiring from the practice of medicine
Understand passive income and how to handle the financial side of retirement
This is the third book in the Doctors Guide series