Smart Career Alternatives and Retirement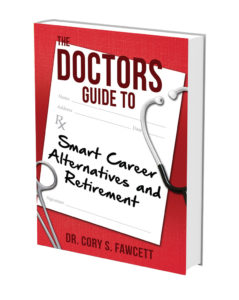 Escape Call. Live Well. Enjoy Your Work.
Many physicians are ready to give up their job and healthcare career altogether. It doesn't have to end that way. In his third book in The Doctors Guide series, Dr. Cory Fawcett shares options you didn't know existed. There are ways to repurpose your career in healthcare to find that balance of work and enjoyment that's been missing.
If you are ready to leave medicine, read this book before you make our move. Determine your next steps to a more fulfilling life as a healthcare professional.
Uncover your motivation for wanting a change
Find a new career that uses your existing skills and experience
Learn from the experiences of other doctors in clinical and nonclinical careers
Know the ins and outs of semi-retiring or fully retiring from the practice of medicine
Understand passive income and how to handle the financial side of retirement
This is the third book in the Doctors Guide series

What Others Have to Say:
3/23/20, The Scope of Practice
"As always, Dr. Fawcett delivers high-impact value on complex issues. This is a great read for anyone who wants to plan for retirement. It's also highly relevant to people seeking non-traditional medical careers. In short, it's a book for all physicians, regardless of age or stage of life! I highly recommend it!"


Read the full review at the link below: 
10/31/18, Crispy Doc
"I'd strongly recommend this book for anyone who feels trapped by medicine. The reassurance you obtain in knowing your options is easily worth the cost of purchase.
"
Read the full review at the link below: 
https://www.crispydoc.com/2018/10/31/a-review-of-the-doctors-guide-to-smart-career-alternatives-and-retirement-by-dr-cory-s-fawcett/
3/20/18, Physician on Fire
"
I liked this book.
 Dr. Fawcett uses both theoretical examples mixed with stories of real people including himself to illustrate the lessons he's conveying."
Read the full review at the link below: 
https://www.physicianonfire.com/career-alternatives-physicians/