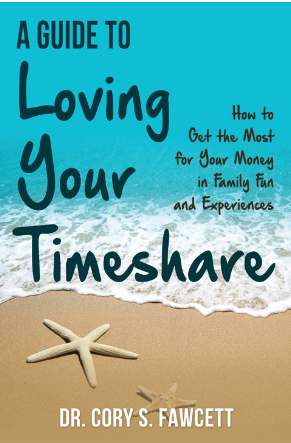 How to Get Great Value and Great Vacations From Your Timeshare
"If you've ever considered a timeshare and want to learn how to get the most bang for your buck, this book will pay for itself hundreds of times over."
-Leif Dahleen (The Physician on FIRE)
Read the full review by Physician on FIRE HERE.
Timeshares get a lot of bad press. Luckily for me, my wife and I bought ours before we heard this information, and our family has enjoyed three decades of great and cost-effective vacations using our timeshare. I want to show you how timeshare trading systems work for best value, how to buy them on the secondary market, and how you can get five-star accommodations with outstanding amenities, around the world, usually for less than the cost of a Motel 6. Here is your chance to see what happy timeshare owners know that has allowed them to have such great vacations at such a bargain price.
Were you ever given the impression that using timeshares for vacationing was expensive?
I spent $311 per week this year for the eight timeshare weeks I used.
Did anyone ever make you think that owning a timeshare meant you had to go to the same place every year?
The eight weeks I used this year were across six different US states and after 30 years I have yet to stay at the timeshare I own and rarely repeat a stay with more than 4,000 locations to choose from.
Do you believe that a timeshare maintenance fee was for every week used?
I used eight weeks this year and only paid one $733 maintenance fee for the single week I own. The rest of the weeks did not have a maintenance fee.
Have you been lead to believe that timeshares cost a lot of money to buy?
You shouldn't pay more than $2,000 to own a timeshare and often you can get a free one.
That sums up a lot of misinformation that I would love to correct for everyone.
Here is a list of the chapters of information I've included in the book.
-Timeshares are a great way to vacation
-How did timeshares get such a bad rap?
-Who should buy a timeshare?
-Getting the most value from your timeshare
-How to buy a timeshare at a bargain price
-Selling your timeshare
-Silly things people say about timeshares and why they are mistaken
-Interviews with happy timeshare owners
Don't be swayed by people who don't actually understand how to use a timeshare. If someone handed you an iPhone, and you had never seen one before, it would only be a paper weight until you learned how to use it. Knowledge makes all the difference in the world. I trade my single timeshare week for multiple weeks every year all over the world. Where else can you stay in gold crown resorts for the price of a budget motel. Isn't it about time you learned the facts?
Check out what these happy timeshare owners have to say:
"Timeshares are an excellent travel framework for the busy professional. When utilizing trades or your home resort, this book provides a guide to get the most from timeshare ownership." —Dr. Allison J. Batchelor
"Every timeshare owner needs to read this book to effectively use their timeshare. I loved the comparison of timeshares to luxury car ownership. Classic!" —Lisa Ward
"We have truly enjoyed our timeshare experience as it has taken us to locations we had never heard of, and we enjoyed them one and all." —Cindy Luce
"After more than 100 timeshare vacations, we have not found a better deal for the money. Cory shares in this book how to effectively make the optimal use of your ownership." —Tim and Marcia Evans