(Running out of time to get your tickets to the WCI CME conference on Physician Wellness and Financial Literacy which starts Thursday. Don't miss my lectures on debt and retiring with real estate cash flow.)
Each week I run into a few articles that I feel are especially valuable. Every Monday I would like to share some of the best with you, my readers. I hope you find them helpful.
This week's favorites include negative bonds is yet another reason to become debt free, tips for getting into real estate investing, some important considerations in retirement planning for physicians, owning a dog is way more expensive than you think, and avoiding the FOMO with investing decision you passed on.
Happy reading!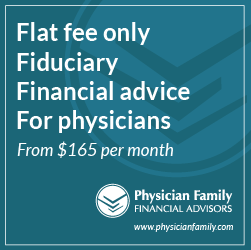 If you have read my book on Eliminating Debt, you know several reasons to become debt free. The White Coat Investor gives us another one in his article Debt is a Negative Bond. His question of why would you buy a bond if you have debt is killer. You wouldn't believe how many times I have talked to a doctor who has $250,000 in cash (earning 0.01% interest) and also has $100,000 in student loans costing them 2.85% interest. I ask why they don't pay off the loans and they tell me because it is low interest and therefore "good" debt. It makes no sense to sit on all that cash and pay interest on the student loans when you could take some of the cash and earn 2.85% interest on it by paying off the loans. Don't miss my lecture on Debt in the WCI conference on Thursday. Get your tickets now. 
Many doctors contact me wanting to get into real estate investing and my real estate book is hands down my best seller. Why is that? Because it is the best way to generate passive cash flow. I even put together a course to teach you how to own real estate without it taking up your time. I don't consider real estate investing a side hustle any more than buying mutual funds is a side hustle. But some think it is. Disha Spath (The Frugal Physician) is one who thinks of RE as a side hustle and in her article for Grow Acorns she gives us Top Tips for Starting a Real Estate Side Hustle so it can Generate Consistent Passive Income. There are a few acorns for you in this article if you are thinking about adding real estate to your investing plan.
Retirement planning is a very complex issue. The FI Physician (who is found on my list of recommended flat fee financial advisors) helps us out in his article on Cultivated Issues in Retirement Planning for Doctors. I really loved seeing how my net worth stack up to other doctor's net worth based on age. Where do you fall? He makes a lot of great points to consider. If you need more information on retirement, check out my retirement book. 
I recently had a conversation with a physician who lived in a big city apartment and owned a dog. I asked about how that was feasible, given no yard to play in and living several stories up. He told me about his plan and the dog walker and then I was blown away to learn he spent about $1,000 a month on the dog! I own 55 apartment units and none of them even rent for that much money a month. It's hard to justify spending more on a dog than many people spend on their housing.  Turns out that being a dog owner is way more expensive than you might think. The Doggypedia gives us a nice breakdown of the expenses in The Real Cost of Owning a Dog in 2021! Can You Afford It? Just wait until your beloved pet gets a lump that turns out to be cancer. The cost skyrockets.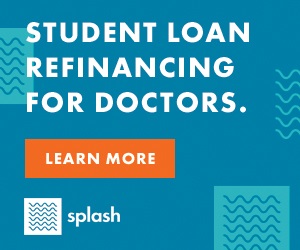 Have you passed on an investment only to see it be 10x in value a few months later? How did you feel? It happens all the time, but you don't have to jump to get involved with every offer that crosses your plate. The Physician on FIRE helps us out with this FOMO in his article No Called Strikes in This Business. His point is to wait until you see an investment you really want, and forget about the ones you passed on. Great advice. No point in dwelling over everything you could have done in hindsight. Just think of all the losers you also passed on. It reminds me of the Tortoise and the Hair. Or some wisdom from King Solomon, "Steady plodding brings prosperity; Hasty speculation brings poverty." Just keep sure and steady investing and don't swing for the fences, which often leads to striking out. 
I hope you enjoy these articles as much as I did. I look forward to updating you again next week with a few more articles I find especially interesting. If you read an especially good article, send me the link so I can share it with others.