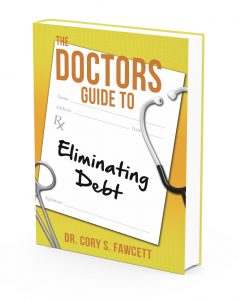 Book drawing winners
Recently Dr. Pamela Wible posted a nice article about my new book "The Doctors Guide to Eliminating Debt." I especially liked the part where she called my wife, Carolyn, a "brilliant accountant." She discussed her journey with becoming debt free and quitting her "job" by age 36 and you can read it here:
Pam has been a leader in the fight to prevent physician suicide and improve the lives and treatment of Medical Students, Residents and Attendings. I hope you will join her cause and sign up for her blog as well as mine. We are both on a mission to improve the lives of doctors everywhere.
She is found at idealmedicalcare.org and I am at DrCorySFawcett.com.
In conjunction with this article we did a book give away. The ten winners for responding quickly were:
Seth Rosenblatt, Rebecca Gallagher, LaWanda Mann FNP, Tamar Jackson, David Giraldo, Dervin Cunningham, Mollie Meagher Selz, Casey Whipple, Grace Loehr CNM, Devyn Denton
The five winners who signed up for my blog were:
Taylor Brana, Samual Muta-Martinez, Jennifer Sudarsky, Samantha Phillips, Neta Caspi
If you are a winner, your book is in the mail. Merry Christmas.
For those of you who didn't win a free copy, you can start your year off on the right step by picking up a copy from Amazon and stop managing your debt and start eliminating it. Sign up for my blog before you miss something that might change your life.
If you want to increase your market exposure and boost your practice income, Pam has a free list of over 140 marketing ideas and you can get it here (I especially like #37):
https://marketing.beahappydoctor.com/148
I hope you all finished 2016 strong. If you want 2017 to be even better consider one of my coaching programs. Either "Reclaiming Your Financial Footing," or "High Performance." Two powerful life changing experiences: taking your performance to the next level and taking your finances to the next level.
I hope your 2017 is your best year ever.
Happy New Year.