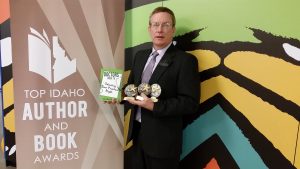 So excited to return from my travels after a final stop at the Idaho Author and Book awards in Boise. It was a great evening and I was blown away to be honored with three awards for my first book, "The Doctors Guide to Starting Your Practice Right." (Aloha Publishing) The award I was most proud to win that night was for best non-fiction book of the year. Talk about dreams coming true.
A lot of hard work went into the completion of the book from several people. My publisher, Maryanna Young of Aloha Publishing, my editor, Jennifer Regner, and the design team at Fusion Creative Works, Shiloh Schroeder, Rachel Langaker, and Jessi Carpenter are all part of this award and I'm very thankful for their contributions.
A special thanks to those who did the test reading of this book and offered suggested improvement: J. Brant Darby, DDS; Aaron Martin, DO; John Ermshar, MD; Owen Martin, DC; Marsha Evans; Maureen Feist; Danielle Conrardy, MD; Rob Bents, MD; Mark Thomas, MD; Nathan Kemalyan, MD, FACS; R. J. Leavitt, MD; Timothy M. Grant, MD, MBA, CPE; William Merbs; Allison J. Batchelor, MD, CMD; Sean Traynor, MD, FACS; my wife, Carolyn Fawcett, and my son, Brian Fawcett.
I would also like to thank all of you who bought the book and those of you who were kind enough to take the time to post a review on Amazon. Keep an eye out for the rest of the books in the series. The second book was just released, "The Doctors Guide to Eliminating Debt," and I'm currently editing the third book on retirement which should be available in the spring. I'm hoping to get it into test readers hands in the next couple of months.
My posting took a vacation as I did last month and I will be returning to my regular schedule now. Thanks to all of you who are following my blog, liking my Facebook page and following me on twitter, LinkedIn and YouTube. It is inspiring to hear from you.
Dr. Cory S. Fawcett
Prescription for Financial Succe$$