(Today's guest post comes from Lawrence B. Keller, CFP, CLU, ChFC, RHU, LUTCF, who is a paid advertiser on Prescription for Financial Success. Mr. Keller specializes in own-occupation disability insurance for physicians, something all working physicians need. His comments on this plan will give you a good handle of some things you should be thinking about with your plan. If you need disability insurance, or you wish someone to look over what you already have, he would be a good place to start.)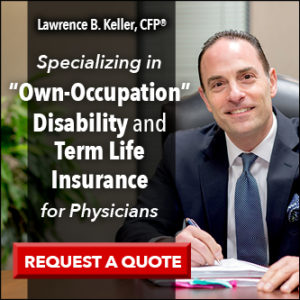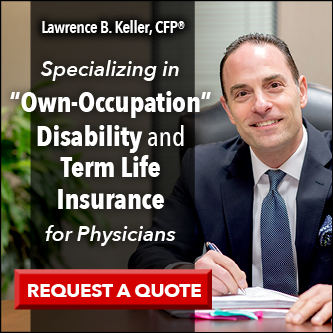 As an insurance agent that specializes in disability insurance for physicians I am often asked to review and comment on the American College of Surgeons (ACS) Group Long Term Disability Income Plan, which is available to all eligible ACS members (including full-time members of the armed forces) under age 60, who are actively performing all the duties of their surgical profession, or other primary occupation at least 30 hours per week.
Unfortunately, there are many potential problems/issues associated with this policy, as well as, similar offerings from other professional associations. This article will focus on the specifics of this policy, which is underwritten by New York Life Insurance Company.
It is not Non-Cancelable and Guaranteed Renewable. "As long as you are a physician actively at work, under the age of 75 (not retired), pay your premiums when due, the group policy remains in force, and the AMA continues to sponsor this plan, your coverage can be renewed".
A policy that is Non-Cancelable and Guaranteed Renewable provides the greatest degree of protection to you as a consumer. Meaning, as long as required premiums are paid, the policy can't be cancelled, premiums increased, or coverage terms changed until the policy expiration date (typically age 65).
The Premium Rates Are Not Guaranteed. "Rates are based on the member's age when entering the plan and change at each new age bracket and are based on the current rates in effect at that time". The age brackets are as follows: Before Age 35, 35-39, 40-44, 45-49, 50-54, 55-59). "Rates may be changed by New York Life on any premium due date and on any date on which benefits are changed but it may only be done on a classwide basis (for example, a class is a group of insureds with the same age and gender). Future benefits are subject to change by agreement between New York Life and the Trustees of the ACS Insurance Trust".
It Does Not Have an "Own-Occupation" Definition of Total Disability "This plan defines "total disability" as your incapacity due to an illness or accident to perform the material and substantial duties of your surgical or medical specialty or primary occupation, provided you are not engaged in any other occupation for pay or profit". It then states that "Even if you return to work at another occupation, or resume working in your own occupation on a part-time basis, you may still receive benefits if you have a loss of earnings".
At this time of this writing, depending upon your state of residence and medical specialty, there are only six companies that potentially offer this definition to physicians – Berkshire Life (a Guardian Company), Standard, MassMutual, Principal, Ameritas and Ohio National.
The Number of Days Required to Meet the Elimination Period Must be Consecutive. "A waiting period is the number of consecutive days you must be totally disabled before benefits begin." Individual policies do not require this and, for example, might specifically state that "You must be Disabled before benefits begin to accrue and starts on the first day that You are Disabled. The days within this period need not be consecutive but they must occur within the Accumulation Period. Benefits will not accrue or be payable during the Elimination Period".
You Must Be Totally Disabled Before You Can Collect Residual Disability Benefits. "You will be eligible for residual disability income benefits if you return to work, following a period of a covered total disability of at least 30 days and your current earnings are no more than 75% of your pre-disability average earnings".
In his article "What to Look for in Disability Income policies", the late Peter C. Katt, CFP®, a fee-only insurance adviser located in West Bloomfield, Michigan, stated "Do not buy a disability income policy that has a qualification period. There are too many diseases that are progressive and have no total disability at the beginning. Under such circumstances, a qualification period of, say, 30 days would prevent the insured from receiving any residual benefits". Ideally, your disability insurance policy should not require that you be totally disabled prior to collecting Residual Disability benefits.
A good example of this might be a physician that has not been feeling great and, as a result, has been working sporadic hours. They have their good days and their bad days. Due to their symptoms, they have and continue to consult with various medical specialists in hope of getting a differential diagnosis. This goes on for years and, as a result, they are working fewer days per week, fewer hours per day, seeing fewer patients and/or performing fewer procedures – causing a (potentially substantial) loss of income .
Finally, they are diagnosed with Multiple Sclerosis and told they can no longer work in their medical specialty. Only at this point, after the waiting period is satisfied and they meet the definition of total disability in the policy, can they potentially qualify for Residual benefits under the AMA's policy.
There is no Recovery Benefit. While any policy you purchase must include a Residual or Partial Disability Rider, what happens if you have physically recovered and returned to work on a full-time basis but continue to experience a loss of income?
A Recovery Benefit is designed to do more to assist with your financial recovery following a disability – especially if your practice has been built on referrals from existing patients and/or other physicians. Should you continue to suffer a loss of income of 15-20 percent or more, compared to your pre-disability income, and there's a demonstrable relationship between your current loss of income and your prior disability, some companies will continue to pay benefits to the age of 65 or longer.
Other companies continue to pay for a limited period of time (typically 12, 24 or 36 months), which may or may not properly support your financial recovery. Therefore, if some or all of your compensation is tied to productivity, you should make certain that the policy you purchase contains a liberal recovery benefit.
Limitations Exist for Claims Related to Mental and Nervous Disorders. "Benefits for mental disorders are limited to the lesser of 36 months during a lifetime or the above maximum benefit period. The 36 month limitation does not apply if you are institutionalized or if there is an organic disorder such as Alzheimer's disease".
While some carriers will cover claims for mental and nervous conditions in the same way as other disabilities, the majority of companies limit these claims to a maximum of 24 months (either per period of disability or over your lifetime). This limitation is invoked if the primary cause of disability was solely a psychiatric or substance abuse disorder or diagnosis including, but not limited to, post-traumatic stress syndrome, anxiety, depression and or alcohol abuse/addiction. Although many physicians will opt to purchase a policy with the least amount of restrictions, some willingly accept a policy with this limitation in order to take advantage of the cost savings associated with it. Others, like Anesthesiologists or Emergency Medicine Physicians, may simply have no choice.
The Cost Of Living Adjustment (COLA) Rider Has an Overall Maximum. A COLA Rider is designed to help your benefits keep pace with inflation after your disability has lasted for 12 months. The ACS policy states that "On each anniversary of a continuing disability, your monthly benefit for the next 12 months is adjusted to reflect any changes in the CPI-U during the last 12 months. The maximum yearly increase is 5 percent, and the overall maximum increase for a single disability is 100 percent". This overall maximum may not adequately help you maintain your monthly benefit's purchasing power over a long period of time. Additionally, "when the covered disability ends, the monthly benefit will be reduced to the pre-adjusted monthly benefit". Individual policies will typically allow an insured to purchase the additional coverage provided as a result of the COLA Rider increases or potentially allow the increased benefits remain on the policy, at no additional premium, if certain criteria are met.
The Future Purchase Option (FPO) May Not be Adequate. "The Future Purchase Option makes it possible for an insured to increase Disability Income coverage in the future without having to go through medical underwriting at that time. It is a valuable benefit for the busy surgeon just starting out in his/her career whose income will increase over time. Amounts range from $500 to $7,500 per month in $500 units. The "Amount applied for may not exceed the amount of Long-Term monthly Disability Income for which the member is insured. The combination of Future Purchase Option plus Long-Term Disability Income cannot exceed the $15,000 monthly maximum".
Individual disability insurance policies do not limit the amount of the Future Purchase Option Rider to the amount the in which the member is insured. In fact, they typically use a multiple of the initial monthly benefit purchased, subject to their issue limit or maximum FPO Rider available to determine the amount of additional coverage that can be purchased in the future, regardless of an insured's health, as their income rises.
The Monthly Benefit May Not be Adequate. "You may select a monthly benefit from $1,000 to $15,000 in $500 increments. Your ACS Long Term Disability Income coverage, when combined with all other disability protection benefits you already carry, cannot exceed 60% of your Average Monthly (professionally earned) Income".
Individual disability insurance companies will typically issue policies with monthly benefits from $15,000-$20,000 month. However, by combining companies, you can potentially reach a total of up to $30,000 month of individual disability insurance coverage (or up to $35,000 month with group LTD coverage). As a result, for high income specialties, I often combine two companies to allow them to potentially reach this higher amount, subject to their income and other disability insurance coverage inforce, if any.
You Are Not the Policyowner. "The group policy issued to the Trustee of the American College of Surgeons Insurance Trust under Group Policy GMR-FACE/G-29002-0.Your coverage will be continued until the premium due date coincident with or next following your 70th birthday as long as you remain an ACS Member, the Group Policy is not terminated by New York Life or the policyholder, your premiums are paid, and you are actively at full-time work for pay or profit (unless disabled).
The plan also states that "The Policyholder may terminate the Policy on any Anniversary Date, by giving written notice to New York Life at least 180 days in advance" and "New York Life can terminate the Policy on any Anniversary Date, by giving written notice to the Policyholder at least 180 days in advance".
Those considering the purchase of or those insured under this plan should also note that "ACS also receives a fee for the license of its name and logo for use in connection with the plan".
Although initially low in cost, association plans, such as the American College of Surgeons, do not provide the customized benefits that can be achieved by purchasing a high-quality individual disability insurance policy. In my opinion, this offering is best summed up by the old adage "you get what you pay for".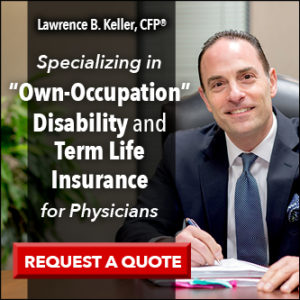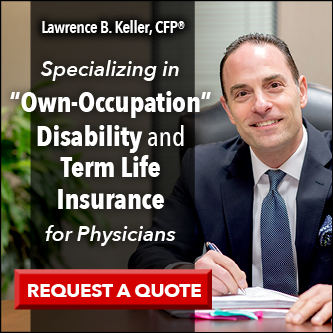 Keep in mind that many insurance companies make discounts available on individual disability insurance policies through hospital affiliation or professional associations. Agents that specialize in working with physicians should know of and have access to them. Otherwise, establishing one requires that 3-5 employees working for the same employer purchase policies from the same insurance company.
Ideally, you want to purchase your policy from an agent that represents several insurance carriers, provide you with illustrations of coverage from each and will review the differences between them with you in detail. You can then make a decision based upon the policy or policies that best meet your individual needs, goals and budget.
What do you think? Have you ever needed to use your disability policy? How easy was it to get what you needed? Do you have a group policy or an individual policy?